Presence/Absence Test for Total Coliforms and E. Coli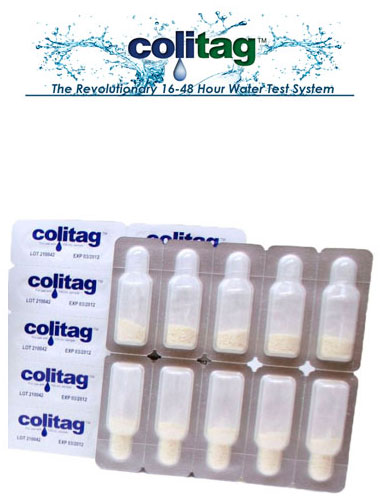 Colitag
The First Definitive Water Test System for Coliforms and E. coli
Colitag™ is the most versatile test ever! It has the widest approved testing window in the industry: 16-48 hours, greater selectivity for Total Coliforms and E. coli, a growth inhibitor for Aeromonas and Pseudomonas and is US EPA Approved for use in MPN format provided that the sum of all individual portions of the sample total 100mL.
Ease of Use
Apply media, incubate and compare
Minimal training required
Reliable
Patented process revives chlorine-injured bacteria
Reduced false negatives
Includes built-in ability to detect MUG-negative E. coli using the reliable indole test
Federally Approved
US EPA approved
Approved methods for microorganisms
Economical
Most competitive pricing on cost-per-test on the market
22 month shelf life from the manufacture date
Expiration date is printed on media box and individual blisters
Fast and Flexible
16 to 48 hour test procedure
Collection to media application in seconds
Disposable sample vessels - no washing glassware
For additional technical information, click here.
For more information, including pricing, please contact Continental Hydrodyne Systems.