Hallett™ –30 NSF/ANSI 55 Class A Certified
Community and Commercial UV Drinking Water Purification Systems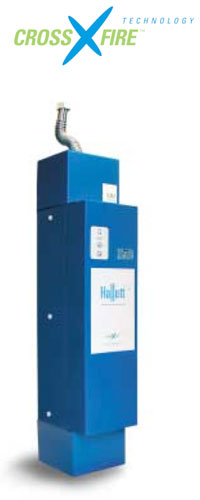 The Hallett™ 30 with Crossfire Technology™ is for Community and Commercial applications. It outperforms conventional systems with the most effective dosage rates for removal of all pathogens including viruses, bacteria, cryptosporidium, giardia, legionella and E. coli.
CROSSFIRE TECHNOLOGY is the Most Effective UV Treatment
NSF/ANSI 55 Class A Certified to 30 USgpm, 113 L/min, 6.7 m³/hr
Highest UV Dose - proprietary high-output long-life lamps
CROSSFIRE TECHNOLOGY is Risk Free and Fail-Safe
Dual smart UV sensors monitor both UV output and water quality
Built-in microprocessor monitoring with both visual and audible alarm notification
Automatic shut-off fail-safe solenoid valve – if the water is running, water is safe
CROSSFIRE TECHNOLOGY is Self-Cleaning
Automatic mechanical quartz cleaning system – quartz does not foul
No quartz cleaning and system drainage required with no risk of quartz breakage
Water softening not required saves money and the environment
CROSSFIRE TECHNOLOGY is Virtually Maintenance Free
Lamps mounted in air - easy to change, no system draining required
CROSSFIRE TECHNOLOGY is Simple to Install
Flexible stainless FIP connections for quick and simple installation
Compact size
For additional technical information, click here.
For additional information about Hallett's Crossfire Technology, click here.
For more information, including pricing, please contact Continental Hydrodyne Systems.