Liquid Scintillation Counting System – Model #SSS-12P and #SSS-22P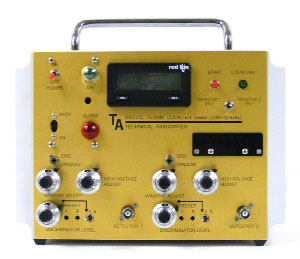 Application
The SSS-12P Manual Liquid Scintillation Counting System accurately and quantitatively measures Carbon-14, Tritium and most other radioactive materials.
The SSS-22P is a portable liquid scintillation counting device for use in the field or in the lab. By intimately mixing a sample with scintillation cocktail and counting each individual event with a photomultiplier tube, this system incorporates the most sensitive method for counting beta emitting isotopes and is primarily used for detection of very low-levels of a given isotope. The dual photomultiplier tube design allows for detection of even low levels of C-14 and Tritium. The SSS-22P system has a 3 vial capacity, and comes standard with a serial output for data transfer.
Features
Measures all beta emitters and low energy gamma emitters
Settable window can be set for any isotope
All in one version is available
For additional technical information, click here.
For more information, including pricing, please contact Continental Hydrodyne Systems.