The AquaKing® Colorimeter utilizes our patented Curve Fit (CF™)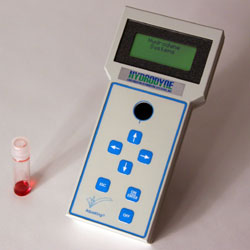 Technology delivering the most accurate results possible. The AquaKing® automatically re-calibrates every time you scan your blank.Never return your colorimeter for calibration again.
Features
Easy to follow step by step instructions are programmed into the colorimeter and displayed on a large 4 line display
Multi-Parameter - 60 pre-programmed tests including EPA 180.1 Turbidity Method - See our reagents page for a listing of the tests
Automatic wavelength selection
Stores up to 99 test results in memory to be used for data logging purposes (date and time stamped) and the results can easily be downloaded to your PC
The AquaKing® is programmable for a customized battery of tests to save the user time in the field.
Use either AC power supply or 4 "AA" batteries
Comes with a durable carrying case
Warranty - 3 year
Advantages
Patented Curve Fit (CF™) Technology is superior to conventional colorimetric technology available on the market
Not affected by turbidity, temperature variances or stray light
The AquaKing® never needs recalibration! (It recalibrates automatically every time you use it)
Easy to use on-screen instructions
Upgradeable for custom testing applications - our chemists are always available for consultation for special testing applications
AquaKing® Specifications Curve Fit (CF™) Technology Patent #6404500
Light Source: Multiple LED's
Detector: Silicon Photodiode
Wavelengths: 425-660nm
Display: 4 x 16 line graphics
Resolution: 1% Transmission
Accuracy: +/- 2% FS
CE Mark: Yes
Vial Size: 17mm Diameter
Power: AC or (4) AA Batteries
Battery Life: Typically 6 months
Data Logging: Up to 99 tests - date, time & test stamped
Readout Mode: % Transmission, Absorbance, or Concentration
Calibration: Not required - self calibrating
Keypad: 7 button membrane switch
Size: 3.9" W x 8.25" L x 2.2" D
Weight: 18 Ounces
Warranty: 3 years from date of purchase
For more information, including pricing, please contact Continental Hydrodyne Systems.