Model PC2300
Features

Complete portability. Use it anywhere!
Easy Do-it-Yourself Calibration (sealed standards provided)
Compact & Rugged (15 lbs, floats)
Quickly Counts & Sizes (16 seconds min.)
Custom Easy-to-Use Software
Eliminates Sample Cell Flushing
Built in Magnetic Stirrer
Operation Theory
Utilizing the principle of "near angle light scatter", a revolving laser beam passes through the walls of a glass container of a flow-thru cell. When it is directed through a central "sensitive zone" the PC-2300 not only counts the particles in suspension, but tabulates their size as well. The analog signals generated by the light pulses are routed to a computer and digitized.


Optical Schematic of the Laser Particle Counter
Calibration
Spectrex provides three sealed calibration standards with each unit. Each standard contains a precise number of NIST traceable polystyrene spheres of known size in suspension and are sealed with inert Argon gas. These standards have a proven stability of more than 10 years and provide efficient calibration within 10 minutes.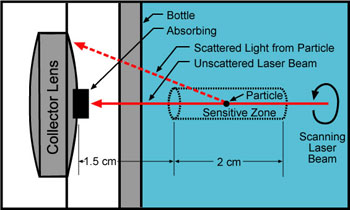 Detailed Laser Optics
Applications
Water Treatment Plants
University Laboratories
Pharmaceutical Manufacturers
Oil Refineries and On-site drilling
Bottling & Beverage Operations
Oceanographic Studies
Hydraulic Fluids and Oil QC
Liquid Chromatography Solvent QC

Cooling Tower and Waste Water Filter Efficiency
Particle Agglomeration Studies
Silts and Sediment Sizing
Particle Settling Characteristics
Corrosive Chemical and Solvent Sizing
Vial and Ampule Inspection
De-ionized Water and Acid Testing
Cell Counting
SuperCount SOFTWARE
Developed by Spectrex, the custom interfacing electronics and proprietary software provide an easy means of analyzing and saving data generated by the PC-2200. SuperCount provides instant sizing information and histogram of size distribution in addition to indicating:
Absolute Counts
Mean Size
Mass Distribution
Percentage Distribution
Standard Deviation
Total Suspended Solids
The dilution factor can be automatically computed to give absolute count for liquids as dense as sludge! SuperCount also is loaded with a special bonus program for hydraulic fluids* and Phi classifications.
Options
Opacity Meter - provides an instantaneous measurement of the sample's opacity to correlate with computer calculations.
Small Vial Attachment - for use with 5ml vials or ampules.
Magnetic Stirrer - built into the PC2200 when ordered, eliminates selting by inducing a constant motion of the sample.
Flow-Thru Cell - Spectrex stocks various sizes of flow-thru cells and can manufacture cells to customer specifications. Cells are also available for testing at high pressure and temperatures.
Specifications
Size: 14.5 " x 9.5 " x 6"
Typical bottle size: 15-60 mm inside diameter
Bottle Material: transparent, scratch-free glass
Weight: 15 lb.
Power: 115v 60Hz AC, 12v car jack or internal battery (battery runtime is 5 hours)
Detectable Particle Size: from 0.5Ám - 100Ám
Some Users of the Spectrex Laser Particle Counter
Domestic Users
International Users
Geology, Oceanography and Sedimentology
Oil Industries
Pharmaceutical And Biomedical Institutions
Semiconductor, Disc Drive and Clean Solvent Industries
Army/Navy/Air Force Bases
Water Treatment/Pollution
For more information, including pricing, please contact Continental Hydrodyne Systems.